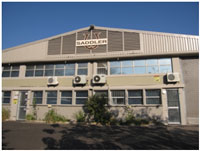 Saddler Belts & Leathercraft (Pty) Ltd was created in 1990 in Durban South Africa. Durban is the largest city on the East Coast of the African continent, with the busiest port in Africa. From a humble family run business, Saddler Belts initially grew on the back of increased sales to the retail chain stores, and has expanded its offering to many other sectors. It supplies most retail chains in South Africa and its African footprint is ever expanding. Our long association with the larger retailers has created an environment at Saddler of consistent quality, quick turnaround times and tailoring the end products to meet their needs. These abilities have also allowed for our global growth, we supply a number of countries abroad.
Saddler has a vast independent store customer base, supplying up market smart and casual belts, as well as exotic leather belts to tourist orientated shops. Our flexibility is also highly regarded by promotions and uniform companies. Saddler has successfully supplied private and government tenders. We pride ourselves on exceptional levels of customer service and in line with this also offer custom styles to clients who would like to design and develop ranges specifically for their needs.
It is still a family run business, but has a strong management team that enhances the levels of professionalism, together with all our staff. Staff development is ongoing. As a member of the South African business community, Saddler is committed to principles of broad-based Black Economic Empowerment and Employment Equity.